Park Road Post Production is an internationally renowned purpose-built facility, providing award-winning sound and picture finishing alongside industry-leading development of digital workflows. Completed in 2002 in time to deliver the final mix on Peter Jackson's The Lord of the Rings: Return of the King, Park Road has continued to provide post production at the highest level to filmmakers all over the world.
Committed to supporting industry events, development initiatives and emerging and established New Zealand filmmakers, Park Road is a strong and active champion of the domestic industry. For international filmmakers the Weta Group of Companies continues to provide an exciting creative hub and Park Road completes the end to end experience.
"Great films are inevitably made with the minimum of compromise. That same clarity of vision guided us when we put this facility together. It's my pleasure to invite you to come and experience Park Road for yourself."
Peter Jackson, Filmmaker
Working alongside producers, directors and DP's to design workflow options and solutions in this ever-changing world of capture and post production, are what we do best.  Park Road is not a global franchise, we are a privately owned, finely tuned facility, invested in our infrastructure, our people and our quality, right here in Wellington.    The filmmakers we have been fortunate to work with have all helped shape the incredible post facility we are today.
"Everything a filmmaker could possibly need for post production is all there under one roof. In the past, I've had to drive all over Los Angeles for hours at a time, at Park Road I just walk down the hall. It's simply the best post production facility I've ever seen."
Jay Russell, Director
If you haven't heard of Looking Up, then you're not alone. This family drama about an astronaut reflecting on his father's teachings…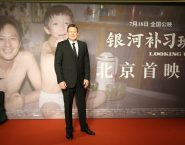 What immediately stands out in Peter Jackson's documentary They Shall Not Grow Old is the faces of its subjects. A painstaking…
VIEW ALL POSTS
"The team at Park Road is absolutely amazing. Working with them was so simple and streamlined, you'd never know that they were on the other side of the world."
Kathleen Kennedy, Producer, The Adventures of Tintin