The annual SPADA Screen Industry Awards was held on Wednesday 20 November, during the 27th annual SPADA Conference in Auckland.
The Industry Awards are a chance to celebrate some of the wonderful people in our screen sector, and this year's awards ceremony was a highlight of the conference.
The 2019 SPADA New Filmmaker of the Year was awarded to a talented writer and director Matasila Freshwater. Matasila started out in the film industry as a consistent finalist in the 48 Hours Film Festival, she won best female director for her film, Rare Arctic Firefly (an animation) in 2014. Mata made her professional short film debut with animated dark comedy, Shmeat in 2016, which was selected for over 20 festivals, including being a finalist in NZ's Best in 2016 (and a close runner up for the grand prize).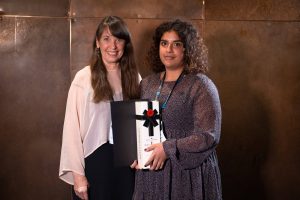 Mata was invited to be one of the contributors to portmanteau feature film Vai, the follow up to Waru. Vai premiered at Berlinale earlier this year, then went on to SXSW and recently made its local debut in the Māoriland film festival. It won a special jury prize at the LA Asian Pacific Film Festival and has been selected for the Sydney Film Festival, ImagiNative and Edinburgh.
Mata tells strong narrative stories with subtlety and deeply layered themes, which focus on her personal journey as a liminal in-betweener. Her stories speak to her unique existence as a Pasifika woman who was born and raised in New Zealand but who has a mother from the Solomon Islands and a British father, and is constantly tugged between cultures, mislabelled and misinterpreted.
Matasila receives $20,000 worth of services from principal sponsor Park Road Post Production which she will use on her NZFC funded live-action short film 'Chalk'".
Full article: http://www.spada.co.nz/2019-spada-conference/spada-industry-awards/