Pacifico, a South-American film by Gonzalo Gutierrez is set to become the continents' first science-fiction piece when it premieres in 2017.
It tells the story of a group of young people who set out for an island in the Colombian Pacific, where outsiders are prohibited from entering. Manipulated by the island's local population, who want to protect themselves from an alien being that dwells on the island, the group reach their destination unaware of the danger it poses. When they find they are trapped, they must fight desperately to survive.
The film is produced and directed, respectively, by Grammy-winning Argentinians Mauricio Brunetti and Gonzalo Gutierrez. It was shot largely in the two cities of Bogota and Choco, and in the jungles along Colombia's Pacific coast. But it was in New Zealand where the film's score was recorded.
Twelve pieces of music composition were recorded by the New Zealand Symphony Orchestra in Wellington's Michael Fowler Centre. Conducted by Hamish McKeich, the NZSO teamed up with Park Road's Director of Engineering: Sound John Neill, who acted as recording producer and score mixer to deliver the compositions.
Kiwi songstress Caii-Michelle Baker worked with Argentinian music composer Pablo Borghi to record the film's feature score, which features Spanish, Maori and English lyrics. Park Road hosted Baker and Borghi and recorded the song in-house. Baker expressed the significance of drawing cultural attributes together, and how each rendition of the multilingual song felt different to sing, all of which bringing a unique tone and feel to the film's score.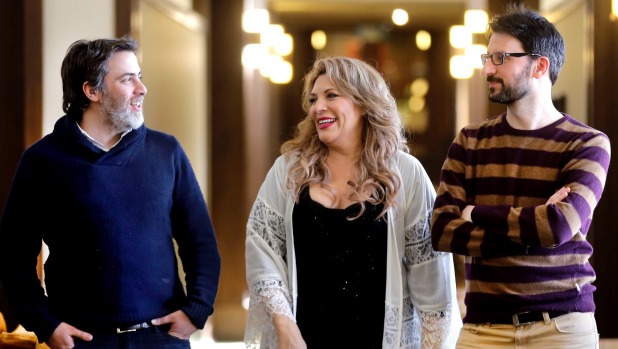 From left: Director Gonzalo Gutierrez, Caii-Michelle Baker, and composer Pablo Borghi
NZSO chief executive Christopher Blake was extremely excited at the opportunity to work with Latin American filmmakers, "We are delighted that the sounds of New Zealand's national orchestra will feature in this South American movie". While a specific release date was not yet been set, Pacifico will release in 2017, with subtitles in English speaking countries.
Watch the orchestral recordings for 'Together' and 'Opening' by the NZSO below: