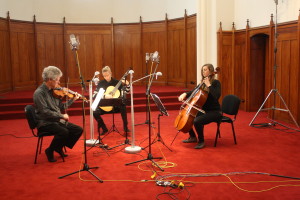 Over the past few months Park Road's Director of Engineering Sound, John Neill, has been recording a number of music projects at the Stella Maris Chapel in Seatoun, making use of the excellent acoustical environment it provides.
Carolyn Mills, a Harpist from the NZSO has partly recorded a CD which has one more days recording to be completed in late August.
The Trio Archi d'Amore Zelanda have completed a CD prior to a six concert tour in Poland, which was released at a function in the nations' capital Warsaw. This is an unusual combination of instruments, the putting together of two modern, conventional instruments in the classical guitar and cello with a viola d'amore which was common between the late 17th century and the end of the 18th.
The Music for Tusi Tamasese's film, "One Thousand Ropes", composed by Tim Prebble was the next project at Stella Maris. Tim used a string quartet, at times with added bass, choir, and percussion. Other instruments such as guitar and celesta were played back through speakers in the Chapel to produce acoustic consistency with the live instruments. The logo theme for the NZIFF was recorded at the same time.
Follow the link below to see the making of the NZIFF logo at Stella Maris Chapel: https://www.youtube.com/watch?v=qbWOplL2mLI